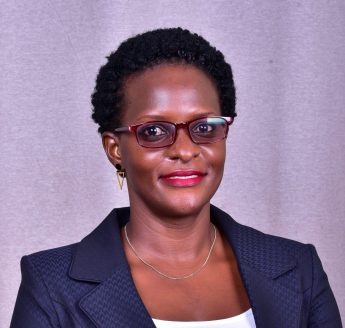 ROY NAMBOGO
Ms. Nambogo was appointed as Director in August 2018. She is the Chairperson of the Corporate Governance and Human Capital Committee of the Board, a member on the Finance, Investment and Risk Management Committee and Technical Committee on Deposit Protection.
She holds a Post Graduate Diploma in Legal Practice from Law Development Center, Kampala and a Bachelor's Degree in Law from Uganda Christian University Mukono. She is an Advocate of the High Court of Uganda and all Courts subordinate thereto, a member of the Uganda Law Society, a member of the East African Law Society and a member of the International Bar Association.
She has over 10 years' experience in the field of Banking and Finance attained since 2007 at the then Uganda Microfinance Limited (Now Equity Bank Uganda Limited) as a legal assistant rising through the ranks to Acting Head of Legal by 2010. As in-house counsel, she was part of the team that saw the entry of Equity Bank Uganda Limited onto the Banking industry in Uganda. At Equity Bank, she served in positions of legal officer attached to credit, legal officer attached to debt recovery unit, senior legal officer and Acting Head of Legal Department.
In June 2010, she commenced private legal practice at the law firm of Nambogo & Co. Advocates which she co-founded and still serves as Managing Partner. She is also a Board member of Heart of Child Uganda and Environmental Alert Uganda; both Non-Governmental Organizations.