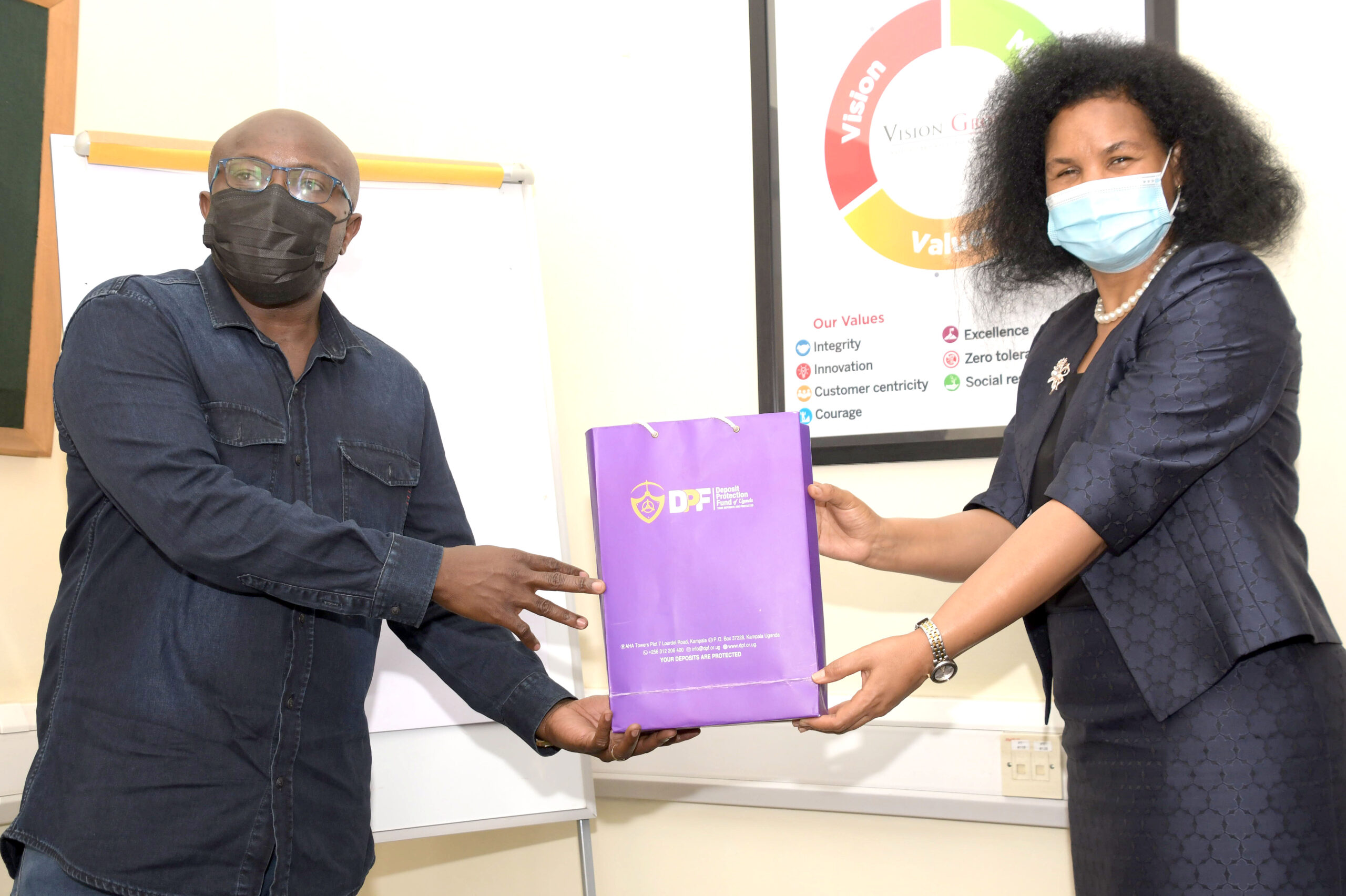 Courtesy Visit to Vision Group by The Deposit Protection Fund of Uganda (DPF)
The Deposit Protection Fund of Uganda (DPF) team; led by the Chief Executive Officer Ms. Julia Clare Olima Oyet along with Mr. Patrick O. Ezaga (Head Communications), Mr. Balaam Ssempala (Head Information Technology) and Ms. Esther Njangali Asiimwe (Senior Officer, Corporate Affairs) on June 18, 2021 paid a courtesy visit to Vision Group. The visit marked the start of efforts to establish, formalize and strengthen relations with the media conglomerate. The DPF team was received by the Vision Group Chief Executive Officer Mr. Don Wanyama and some members of the management team namely Mr. Augustine Tamale (Chief Finance Officer), Mr. David Mukholi (Managing Editor, Editorial), Ms. Fiona Tamale (Head of Marketing) and Ms. Hope Nuwagaba (Head of Sales).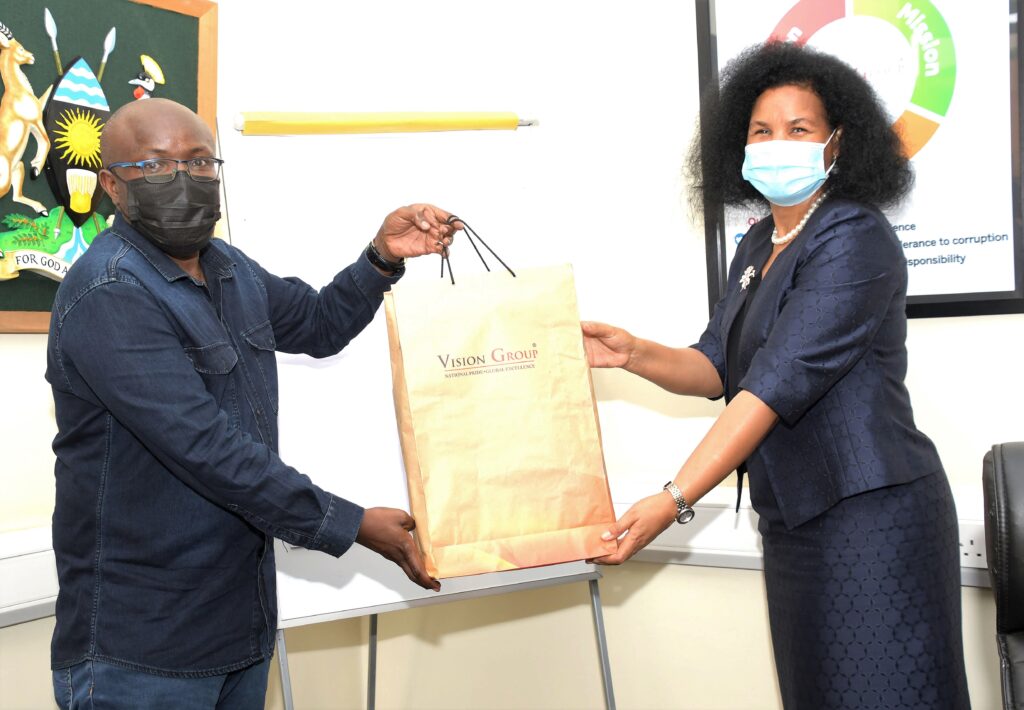 In her remarks, the DPF Chief Executive Officer Ms. Julia Oyet congratulated the Vision Group upon celebrating 35 years of existence. She also congratulated Mr. Wanyama upon his appointment as the Vision Group CEO/MD and expressed confidence that with him at the helm, Vision Group was destined to scale greater heights.
She then shared a brief background of DPF, its mandate and its operations noting that DPF plays a crucial role in promoting financial sector stability by guaranteeing depositors that their money in the banks regulated by Bank of Uganda is protected up to UGX 10,000,000. She added that about 98% of the banked population falls in this threshold and would be able to get their money from DPF in the unlikely event that their bank closes. Julia concluded that it is therefore pertinent for DPF to create partnerships with the media to increase awareness about DPF.
Mr. Balaam Ssempala, stated that customers ought to update their information with their respective banks. He emphasized that this should be done using their National Identification Number (NIN) and mobile phone number or alternative bank account. Balaam said that a partnership with Vision Group team will help in dissemination of such information to the public because it is these details which the Fund will require to pay depositors in the unlikely event that their bank closes.
"It would be a great opportunity for Vision Group and DPF to create a partnership that goes beyond media buying and considers other avenues such as CSR (Corporate Social Responsibility) and editorial support," said Patrick O. Ezaga in his remarks. Patrick highlighted that such a relationship will be of great value in creating more public awareness about the operations of DPF and enhance the knowledge of the media house about deposit insurance.
Speaking on behalf of Vision Group, Mr. Don Wanyama appreciated DPF for the courtesy visit. "Vision Group is an enterprise with multimedia channels such as television, radio, print and digital platforms," said Don. He added that these channels cut across the country and beyond hence making Vision Group the most ideal media partner for DPF because of its coverage and reach. Don also highlighted that over the past 35 years, Vision Group has built a reputation of being the most credible media house with a professional and committed team.
Ms. Hope Nuwagaba supplemented that Vision Group is already involved in various activities such as CSR and engagements beyond mainstream media. This therefore affirms that the capacity Vision Group has built over the years through such activities will indeed be of great value towards supporting DPF's corporate reputation.
In his closing remarks, Mr. Don Wanyama informed the DPF team that Vision Group is a trusted media partner and that the media enterprise will be glad to formalize a relationship with the Deposit Protection Fund of Uganda.