Deposit Protection Fund (DPF) donates items worth UGX 20,000,000 to St. Jude Children's Home in Gulu
The Deposit Protection Fund of Uganda on March 11, 2022, handed over a brand new commercial washing machine, fifty pairs of bedsheets and fifty mattresses with mackintosh covers valued at UGX 20,000,000 as a donation to St. Jude Children's Home in Gulu. The event was graced by the Archbishop of the Gulu Archdiocese, His Grace John Baptist Odama.
In her welcome remarks, Mrs. Josephine Ogweta, the Director of the Home expressed profound appreciation to DPF for the support which will no doubt have a huge positive impact on the home. "I must say, the hand of God is in all what you have donated to us. We are sincerely grateful."
While handing over the items, the CEO of DPF Mrs. Julia Oyet noted that in undertaking its mandate, the Fund is aware of the fact that achieving overall national development is the result of the concerted efforts of different stakeholders.
"It is for this reason that the Board of Directors of DPF deemed it fit to set aside resources, through its Corporate Social Responsibility program, to support especially the vulnerable members of the community. St. Jude Children's Home is one such entity that is delivering selfless service to orphans and other vulnerable children in society," she added.
Mrs. Oyet added that the conviction and philosophy of DPF is that investing in children by according the less privileged an equal opportunity to that of their peers, translates to an investment in the future of this nation.  "It is clear that the Founders of St. Jude Children's Home shared the same conviction as seen from the Home's chosen area of intervention. We do hope that the donation will go a long way in according the beautiful children some level of comfort in their daily life," she noted.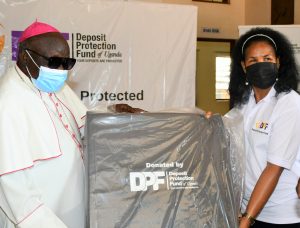 In his remarks, Archbishop Odama expressed his gratitude to DPF for extending support to St. Jude Children's Home. "I am happy that you chose St. Jude Children's Home. Let this not be the last one. When there is another chance, please come again," He commended DPF for coming out to support children, an indication that government is indeed concerned about their future. He advised the care givers at St. Jude Children's Home to take good care of the items donated and protect them jealously.